Life Cover Insurance options from African Harvest
With a range of plans to suit your income and lifestyle requirements, African Harvest brings you some of the most reputable life insurance providers in South Africa.
Do you want piece of mind that your family would be taken care of?
Adequate life insurance can protect your family even when you are no longer around to do so yourself. A life insurance policy pays out a sum of money upon the death of the policy holder or insured person and can include additional cover for critical illnesses, income protection and disability cover.
Hunting for the best life cover can be tiresome and frustrating. However, African Harvest can make your life easier by getting affordable, low-cost life cover while you sit back and relax.
You can get quotes from South Africa's top-rated direct insurers and life insurance companies by completing just one form. You will then be contacted and presented with quotes on various life assurance policies. Simply compare life insurance quotes and select the cheapest and best life insurance policy. It is as easy as that!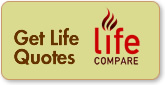 There is no need to hunt for the best and most affordable life cover. Let African Harvest do the work for you!